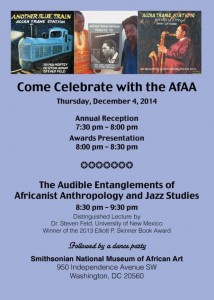 Come celebrate with us! The Association for Africanist Anthropology (AfAA) of the American Anthropological Association cordially invites you to a reception and awards presentation on Thursday, December 4, at 7:30 p.m. at the National Museum of African Art – Smithsonian Institution.  Through the gracious offer by Director Dr. Johnnetta Cole, the AfAA is fortunate to hold its annual reception at the Museum, which is celebrating its 50th anniversary this year.
The museum exhibits are open for your enjoyment!  In connection with the anniversary celebration, the museum will be featuring a new exhibition, "Conversations: African and African American Artworks in Dialogue," reviewed by the New York Times here. (Please note that food and drinks are not allowed in the exhibit halls.)
Reception and Distinguished Lecture Schedule:
Food and drink in the Reception area 7:30-8:00 PM and 9:30-10 PM
Awards Presentations
Keynote speaker: Distinguished Professor Emeritus Steven Feld, Departments of Anthropology & Music, University of New Mexico
"The Audible Entanglements of Africanist Anthropology and Jazz Studies"
Dance party until 10:30PM
There is no separate business meeting. Please disregard the information in the AAA Program and attend the reception 7:30-10:30PM at the Museum of African Art.
Getting There:
ADDRESS: The National Museum of African Art, Smithsonian Institution, 950 Independence Ave SW, Washington DC 20560
TRANSPORT FROM THE HOTEL: AfAA has hired a Bus that is available at the 24th Street Entrance of the Marriott Wardman Park Hotel at 7:00PM (best for viewing exhibits) and 7:30PM. There will also be two return times.
The nearest Metro stop to the Museum is "Smithsonian" on the blue/orange/silver line. From the Marriott Wardman Park, take the Red Line from Woodley Park Station (one block from the hotel) in the direction of Silver Spring/Glenmont. Switch at Metro Center to the blue/orange/silver line in the direction of Largo or New Carrlon. Smithsonian is two stops after Metro Center. A map of the metro system can be found here.