2017 AAA meeting update!
The Association for Africanist Anthropology (AfAA) held its annual business meeting, presentation of awards, Distinguished Lecture, and reception on Thursday, 30 November: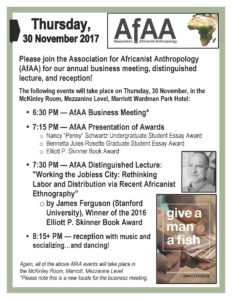 Still time to mingle!!! FRIDAY, 1 December 2017, from 7:45 PM – 10:15 PM, please come enjoy the ABA-AFA-AFAA-ALLA-AQA-SANA-SAW Joint Sections Reception, in the Omni, Diplomat Ballroom!!!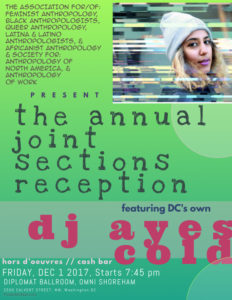 OPEN INVITATION MEMORIAL: ELIZABETH COLSON (1917-2016)
Saturday, 2 December 2017; 4:15 – 6:00 PM
Roosevelt 3 | Marriott | Exhibition Level
Sponsored by: Association for Africanist Anthropology & General Anthropology Division
Professor Elizabeth Colson (1917 – 2016) was known as many things: ethnographer exemplar, Africanist of renown, scholar of displacement and migration, fan of mystery novels, insightful social and political anthropologist, woman pioneer in academia, avid bird watcher, impactful colleague, endurance walker, compelling advisor and teacher, loyal friend. Her anthropological career spanned more than seven decades. This event is an "Open Memorial" for Professor Elizabeth Colson, who died in Zambia on August 3rd, 2016 at the age of 99. We invite all who have thoughts, memories and reflections about the many ways Elizabeth Colson has impacted our: scholarship as anthropologists, Africanists, and social scientists; our professional trajectories as women, teachers and colleagues; and our personal lives through friendship, mentoring and inspiration. Many people knew Elizabeth Colson, many more have been influenced by her work. This is an opportunity for AAA members to recognize and honor the impact of Professor Colson on our intellectual pathways and our personal commitments in the discipline and beyond.
Be part of AfAA.
The Association for Africanist Anthropology (AfAA) exists to stimulate, strengthen, and advance anthropology by promoting the study of Africa, as well as Africanist scholarship and the professional interests of Africanist anthropologists both in and outside of the African Continent.
If you are interested in or conduct anthropological research in Africa, we want you to join us in the Association for Africanist Anthropology (AfAA). There are five good reasons to join or renew your membership in AfAA.
We offer book and essay awards to distinguished scholars, graduate student members, and undergraduates.
As a section of AAA, we review and adjudicate papers and panels for presentation at the meetings. Some people belong to more than one section, but AfAA might be the best place for your work on Africa to be reviewed.
AfAA is a great place to network. Come to our reception and business meeting. Dialogue with other Africanists.
The membership fee is only $30 a year.
We sponsor a Distinguished Lecture in Africanist Anthropology each year following our reception. Great food is always served with proper African hospitality.
We look forward to our upcoming meetings — see you there!